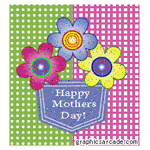 To all the mom's out, and especially the ones in my life, happy mother's day.
I know I missed my happy post yesterday, but I am determined to do it. We reformatted our computer some time ago, and now I don't know how to upload my pictures, so I always have to wait on Matt.
We are going to Sea World today to celebrate me..hehe...actually, to celebrate my kids who made me a mom. Without them, I'd just be plain old Bekki. Because of them I get to be "the best mom ever".